Where Do I Begin?
Still following the sidewalk? That's okay. Sometimes, it helps to have a little push to get started. Here are two ways to get moving:
Jump right in.
Sometimes, the best way to get started is just to dive in. Begin anywhere. Just pick a page. Any disorientation you feel will be strictly temporary. You will quickly find your way around, thanks to the hyperlinking. Free yourself from the need to take it in order, and allow your relationship with the material to take on a life of its own. (Note that this approach is an example of swarmware. The principle of "Clockware/ Swarmware" is represented by an icon in the margin. Turn to the "Principles" section, and locate "Clockware/ Swarmware" in its table of contents to learn more about this concept.)

Identify What You Need.
Below, the nine sections are identified on two dimensions: their level of mastery (new to these concepts, or experienced); and their outcome (learning or doing.) (For example, if you're looking for indepth learning, you might begin with Applications. For some more approachable ideas for action items, try Aides.)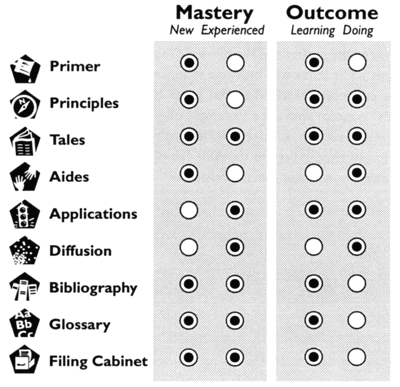 Next | Previous | Return to Contents List
Copyright © 2001, Plexus Institute. Permission to copy for educational
purposes only. All other rights reserved.